Last Updated on: 20th June 2023, 09:22 pm
A washing machine may not be the culprit if your clothes have shrunk. Several factors make clothes shrink, such as fabric type, wrong washing machine mode, or hot water.
Since most people wash clothes in washing machines, they think that washing machines shrink clothes.
The washing machine is just providing the environment for clothes to react to the situation. It comes down to other factors that contribute to the clothes shrinking issue.
If you have had a bad experience with clothes shrinking, you might want to look through the tips written below, and hopefully, you'll find something valuable out of it.
Disclaimer:
As an Amazon Associate, I earn from qualifying purchases.
Besides following the important laundry instructions, there is a lot to learn about laundry. Your experience indeed teaches you a lot, but the internet also answers your laundry questions.
Have you ever thought about why a washing machine shrinks clothes? Let's shed some light on it before going further.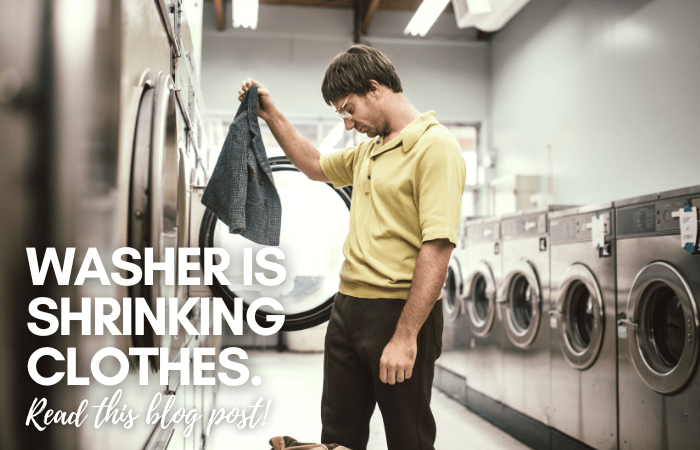 Why do washing machines shrink clothes?
There might be various factors why clothes shrink in a washing machine. Here are some important ones:
Cotton and wool are two types of fibers that are more prone to shrinking. Wool fibers are covered in scales. When the clothes come in contact with moisture or heat, they cause felting shrinkage.
Similarly, when cotton absorbs a large amount of water, it can also cause shrinking due to swelling of its fibers, causing relaxation shrinkage.
Excessive heat and temperature
The agitation in a washing machine and the hot water used in it combine to cause a type of shrinking called consolidation shrinkage. This releases tension in fibers bringing them to a shorter shape and size.
Sometimes, the type of washing machine you are using can also be a reason for shrinking your clothes. It has been noticed that front-loading washing machines are better at preventing the shrinking of garments than top-loading washing machines. This can be because of the specific functions that are being used in each of them.
5 CYCLE SELECTION
IMPRESSIVE FUNCTIONALITY
STAINLESS STEEL TUB
DESIGNED FOR MOBILITY
EASY TO OPERATE
Easy to Use
Space saving
Extremely Energy Saving
Child Lock Functionality
Delay Start & Reloading
Perfect for apartments and small houses
Good for drying baby's clothes and delicates
Multiple wash modes: Heavy, Soft, Normal, Rapid, and Soak
Transparent lid design
A compact design washing
How to prevent your clothes from shrinking
Shrinking clothes in your washing machine is a preventable mistake that you can fix easily. There are some very helpful tips that you can use to prevent the shrinking of your clothes next time.
Let's learn how you can keep your clothes from shrinking.
Check the fabric care label before buying your clothes
Always remember to read the garment care labels while purchasing your favorite piece of clothing to understand its fabric type and care instructions.
Read and follow your fabric care label
Once you buy your favorite garments, the most essential step is to pay attention to their laundry instructions, such as hand wash, cold water washing, or dry cleaning.
Use the proper wash cycle and dry cycle for your clothes
Using a suitable wash cycle and dry cycle is also significant in your laundry process. Carefully notice how many wash and dry cycles your garment needs and give each type of garment its separate care.
This compact dryer (23.6" x 21.5" x 27.5") is ideal for smaller spaces and apartments.
Pick from different drying modes to best suit your needs: Air Dry, Cool, Warm & Hot.
Our portable dryer comes with a 4" diameter vent hose & exhaust connector, lint & exhaust filters.
Drying times with this outstanding compact dryer vary from 30 minutes to 200 minutes.
This portable dryer is your top solution for drying sheets, towels, clothes, and other everyday items.
The weight of this clothes dryer is only 47 lbs, and the small size makes it portable.
The design of the stainless steel tub makes this clothes dryer more durable.
The noise of this clothes dryer is minimal.
Set the time length or different mode for drying: Cool (0-20mins): Low temp dry, Warm(30-120mins): dry and cool cloth, Anti-wrinkle, Hot (120-200min).
With 1500W power and 13 lbs large capacity, this clothes dryer can ensure your clothes dry quickly.
2.6 cubic foot capacity fits up to 9 lbs. of clothes per load
The Avanti compact dryer is perfect for apartments, condos, vacation homes, RVs, or any small laundry space.
Includes front control panel, auto dry / timed dry settings, air dry (fabric refresh), anti-wrinkle, front load window, and multiple installation options
This portable compact dryer uses a standard 120-volt outlet..
Specs of the dryer are 27.5" H x 23.75" W x 18.75" D, 2.6 cu. ft. capacity, 49lbs, 110 volts/60 Hz
Pay attention to the water temperature in your Washing Machine
Since many washing machine models use hot water, it could sometimes lead to the shrinking of your clothes, especially cotton or wool ones. Therefore, it is recommended to wash such clothes in cold water with good-quality detergents.
Avoid over-drying of your clothes
Some clothes require air drying, and some only need one dry cycle. So, these instructions must be kept in mind by reading garment care labels.
With wings elements for the drying of long laundry items
Drying length 21.87 yard
Includes 2 hangers for small items,
5 wind-proof coat hangers
Laundry pin bag and waved clothes hanger bar
Material: Metal
Organize your clothes beautifully
Stylish storage space
Hanging space with two bar ends
16 hanging and folded items
D: 22.44 x H: 74.80 x W: 23.86 inches
Unshrink your clothes
I am going to share some very helpful laundry hacks with you that you can use to unshrink your clothes.
Tip 1: Saturate your damaged shirt in the water. Now, gradually start stretching your wet shirt on a nearby flat and dry surface to the desired size. Do not over-stretch the shirt. Stretch it only to the desired size.
Tip 2: Fill a tub with lukewarm water and add a cap of baby shampoo to it. Soak your garment for about 5 minutes in the water. This process will gradually relax the fibers of your garment.
Now, squeeze the garment to remove water and use a towel to absorb its moisture. Take a fresh towel and lay your garment on this towel. Reshape it to the original shape and keep it in a suitable place for air drying.
Hence, there is always a high chance that your washing machine can shrink clothes, but this can be effectively prevented with proper attention and care of clothes.