Last Updated on: 24th February 2023, 06:34 pm
Automatic vs. Semi-automatic washing machine – which one is better? If you're curious about choosing the type of washing machine, it means you have both options in front of you but you can't decide which one to choose.
When you search the market for washing machines, you mainly come across semi-automatic and automatic washing machines. People choose washing machines according to their requirements.
However, some people might wonder which washing machine is better. If you are willing to learn about both washing machine types in detail, then continue reading.
Washing machines make our life more manageable as they demand little to no human assistance. Many brands are introducing great washing machines with automated technologies, for instance, Samsung's latest washing machines have an Eco Tub Clean feature that cleans the washing machine, and it's recommended to clean up the washing machine after a month or so.
Disclaimer:
As an Amazon Associate, I earn from qualifying purchases.
Let's dive deep into more details to find out which one is better than the other: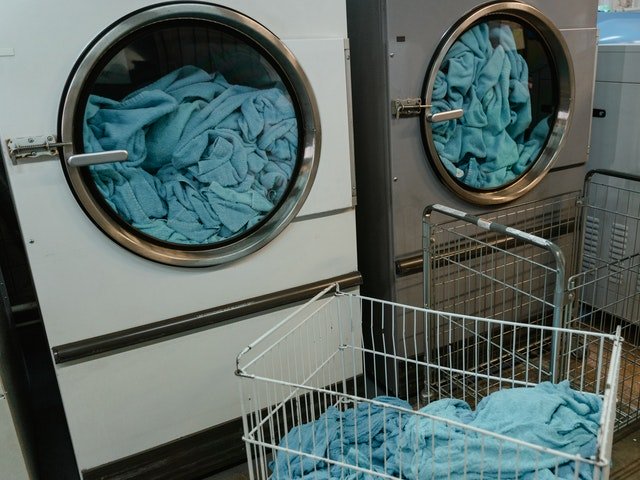 Semi-automatic machine and its effectiveness
A semi-automatic machine is, as the name suggests, a combination of automatic and manual. They require manpower to work and finish the washing process.
The most common type of semi-automatic machine is the twin tub. It is the best semi-automatic machine that most people buy due to its hardcore cleaning action and affordable price.
Washing process
A twin tub machine has one washing compartment and one drying compartment. After the clothes are done washing, you load them in the drying compartment to rinse off excess water. Even after running the clothes through the dryer, they are still damp. You have to let the clothes air dry before folding them.
5 CYCLE SELECTION
IMPRESSIVE FUNCTIONALITY
STAINLESS STEEL TUB
DESIGNED FOR MOBILITY
EASY TO OPERATE
Easy to Use
Space saving
Extremely Energy Saving
Child Lock Functionality
Delay Start & Reloading
Perfect for apartments and small houses
Good for drying baby's clothes and delicates
Multiple wash modes: Heavy, Soft, Normal, Rapid, and Soak
Transparent lid design
A compact design washing
Advantages of a semi-automatic machine
Take a look:
1. Less power consumption
Semi-automatic machines are considered to be a more sustainable way of washing clothes. It does not need a continuous water supply while washing clothes. A person can also manually put water or control its amount. It consumes less water than an automatic machine, and it only takes a sufficient amount to clean clothes. On the other hand, it also consumes way less electricity than different washing machine types.
2. Through cleaning
In a semi-automatic machine, there are more manual options that allow you to control the cleaning process. The clothes gently run against each other to clean themselves. You can transfer it into the rinsing tub and dry it thoroughly for more efficient cleaning results. You can also handle delicate clothes and wash them in a semi-automatic machine.
3. A cost-effective and fast cleaning cycle
One factor that makes most people go for a semi-automatic machine is the fast-cleaning cycle. It takes very little time to complete the washing process and quickly moves on to the drying process. On the other hand, it is very cost-effective, especially for bachelors.
Disadvantages of a semi-automatic machine
Take a look:
1. Requires human power
The semi-automatic machine does require human power to complete the process. You cannot quickly go and run your errand after loading the laundry.
2. Risky
One of the main concerns when using a semi-automatic machine is the risk of shock. You have to switch off the machine before your transfer the load from one tub to another.
3. Needs more storage space
A semi-automatic washing machine has two tubs; hence, it is broader than a semi-automatic machine. You need more storage space to keep the semi-automatic machine which is not ideal for small apartments.
PORTABLE & POWERFUL: This compact dryer (23.6" x 21.5" x 27.5") is ideal for smaller spaces and apartments.
CHOOSE YOUR MODE: Pick from different drying modes to best suit your needs: Air Dry, Cool, Warm & Hot.
IMPRESSIVE SPECS: Our portable dryer comes with a 4" diameter vent hose & exhaust connector, lint & exhaust filters.
HASSLE-FREE OPERATION: Drying times with this outstanding compact dryer vary from 30 minutes to 200 minutes.
DRYING ON THE GO: No matter where your life takes you, this portable dryer is your top solution for drying sheets, towels, clothes, and other everyday items.
Compact & Portable: The weight of this clothes dryer is only 47 lbs, and the small size makes it portable.
High Quality: The design of the stainless steel tub makes this clothes dryer more durable, and you can use it for a long time.
Quiet Design: In order to provide a comfortable environment, the noise of this clothes dryer is minimal.
Multifunction: According to the material and weight of the cloth, you can set the time length or different mode for drying: Cool (0-20mins): Low temp dry, Warm(30-120mins): dry and cool cloth, Anti-wrinkle, Hot (120-200min).
Powerful Performance: With 1500W power and 13 lbs large capacity this clothes dryer can ensure your clothes dry quickly.
FRONT LOAD DESIGN: 2.6 cubic foot capacity fits up to 9 lbs. of clothes per load
SPACE SAVING: The Avanti compact dryer is perfect for apartments, condos, vacation homes, RVs or any small laundry space.
VERSATILE FEATURES: Includes front control panel, auto dry / timed dry settings, air dry (fabric refresh), anti-wrinkle, front load window, and multiple installation options
EASY INSTALLATION: This portable compact dryer uses a standard 120-volt outlet, eliminating the need for special wiring that is required with many other dryers.
PRODUCT SPECIFICATIONS: 27.5" H x 23.75" W x 18.75" D, 2.6 cu. ft. capacity, 49lbs, 110 volts/60 Hz
Automatic washing machine and its effectiveness
An automatic washing machine does not require any manual assistance, and it has fully functional options for effective and hassle-free cleaning. There are different kinds of automatic washing machines; each serves a different purpose.
It is a single-tub washing machine that washes and dries clothes in a single compartment. It is the best choice for people who do not want to spend time doing laundry.
Washing process
The washing process of an automatic washing machine is simple. You have to set the water level, rinse power, spin power, and timer. You have to load the washer and wait for the process to begin. The time of washing can vary depending on the washing machine type you are using.
The full-automatic washing machine is equipped with Heavy, Soft, Normal, Rapid, and Soak - 5 programs and 3 water levels
This top-load compact washing machine with only 18.1 inches in width, 17.7 inches in depth, and 31.5 inches in height
With the transparent lid design, this washing machine allows you to see and monitor the water and washing conditions.
Saving as much as 87.5% energy consumption compared to similar models,
Unbalance could be a very serious issue for washing machines.
Advantages of an automatic washing machine
Here we go:
1. Needs small space
One thing that we find ideal about an automatic machine is that it fits in a small space. It has one tub for washing, rinsing, spinning, and drying. The automatic washing machine is ideal for people who have limited space within their houses.
2. No manual efforts
The best part about the automatic machine is that you do not have to make any effort. It does everything on its own; you just have to set the options right and leave it on the machine to do its job.
3. Wash bigger items
You can fit bigger items in a washing machine and make sure it is cleaned thoroughly. The washing machine comes with various washing options for solid and mild cleaning.
Disadvantages of an automatic machine
Let's take a look:
1. Consume more energy
The automatic washing machine consumes more water and electricity. It needs a continuous water supply to keep working, which is not the most sustainable thing.
2. Longer cycle
An automatic machine takes longer to complete one washing cycle. If you have to wash a week's clothes, it will take you the whole day.
5 CYCLE SELECTION
IMPRESSIVE FUNCTIONALITY
STAINLESS STEEL TUB
ADDITIONAL FEATURES
DESIGNED FOR MOBILITY
Automatic vs. Semi-automatic: Which washing machine is Better?
Both automatic and semi-automatic machines work exceptionally well to provide the best cleaning results. However, the ultimate choice depends on the user, lifestyle, and budget.
A semi-automatic machine works best for people who do not mind spending time doing laundry. It is a cheaper and more effective alternative to washing clothes. However, an automatic washing machine is efficient and requires no effort.