Last Updated on: 18th February 2023, 07:21 pm
Have you ever wondered what "Eco Tub Clean" means? If you stumble upon this article, it means you're a Samsung washing machine user and trying to figure out what it does.
Disclaimer:
As an Amazon Associate, I earn from qualifying purchases.
The Eco Tub Clean is a feature available in Samsung washing machines that cleans the washing machine and removes the dirt or biofilm in the tub without using any detergent or cleaning chemicals.
2x Oxi fighting power. (Stain removal of 1 dose vs 2 doses of the leading detergent with baking Soda and Oxi)
Attacks stains. Odor out. Low price
Refreshing breeze scent
Works with HE and standard machines
Tide Simply plus Oxi provides outstanding cleaning performance in front and top loading washing machines
Furthermore, you'd also find similar technology in other brands' washing machines with slightly different names.
So if you have one of those latest washing machines from other brands, look out for this feature.
Anyway, let's jump right into the main topic. I'm about to tell you how to use the Eco Tub Clean feature in the Samsung washing machine.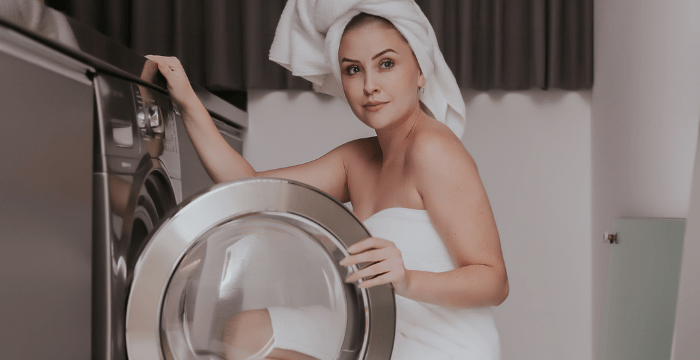 How to Use the Eco Tub Clean in Samsung Washing Machine
Once you're done with washing clothes, the next thing you might want to do is turn on the washing machine once more to use the Eco Tub Clean option.
Once the process begins, the machine is likely to take some water and clean the washing machine automatically. It'd take a while before it's done, though. The benefit of this feature is that you don't have to manually clean your washing machine's tub, which is such a pain.
LARGE 40 G CLEANING TABLETS
MAXIMUM STRENGTH
FRONT LOADING OR TOP LOADER
UNSCENTED
NO COLOR DYES
ECO-FRIENDLY TABLET
SATISFACTION GUARANTEED
You don't have to use the Eco Tub Clean option every time you wash clothes. However, consider cleansing your washing machine using the Eco Tub Clean function fairly regularly.
Here are three simple steps to use the Eco Tub Clean:
Press the power button to turn on the washing machine
Select a washing tub clean option from the display panel
Then press the start/pause button to get started
Does the "Eco Tub Clean" Mode Need Any Detergent?
The washing machine won't use any detergent or chemicals, but only water to clean the washing machine up. It's built with the technology to clean it without any washing powder or cleansing material.
Brand: Perwoll
Item Form: Liquid
Unit Count: 202.9 Fl Oz
Number of Items: 4
Formulation Type: Concentrated
How Long Does the Eco Tub Clean Take to Clean the Washing Machine?
The Samsung washing machine could take up to 40 minutes on Eco Tub Clean mode. So sit back and relax when you're cleansing your washing machine with it.