Last Updated on: 29th November 2021, 02:56 pm
Are you wondering whether or not a Samsung washing machine has a filter? Well, I might be able to help you out with this. The answer is that most of the new Samsung washing machines do have filters installed.
Now, some of you might be curious or looking for an explanation on the washing machine filters. You might not have any idea what a filter is, what it does, and how it helps the cleaning process.
So let me help you out with this. I'm going to put some light on this topic and help you understand how a filter works. Don't worry; I'll explain everything in plain English.
What Does a Washing Machine Filter Do?
A washing machine filter is an essential component of the washer, and it has a vital job in the washing process. You must be looking to find out what a washing machine filter does, so here it is:
The concept of a washing machine filter is pretty much the same as it is in other machinery, for instance, an automobile such as a car also has filters depending upon the size and model. Usually, a car has an oil filter, fuel filter, and air filter.
What these filters do is that they keep the impurities, debris, and dust away from the system, which enables the smooth flow of air or oil, or fuel. You must have heard your car mechanic talking about changing the filters. So that's what a filter does.
Where Does the Filter Go in a Samsung Washing Machine?
If you're a Samsung washing machine user, you'd find the filter on the right side of the spin tub. When you open the lid of the washing machine and look into the spin tub, the filter would be on the right side.
Take a look at the pictures of our top-loading washing machine. We thought to clean up the filter after washing the bedsheets in our Samsung washing machine.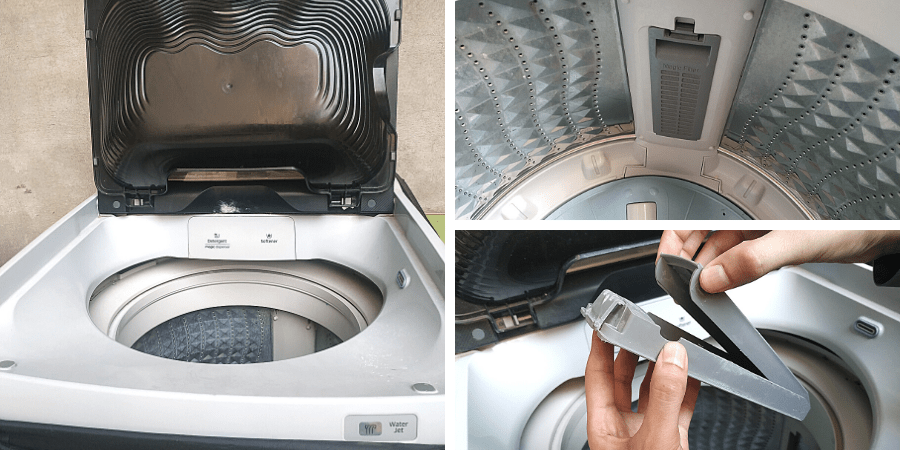 It's recommended to pull it out and clean it once in a while. As you know that the washing machine filter catches the impurities, debris, and dust from the clothes, so it's necessary to clean it up. Otherwise, it would get clogged and won't catch any impurities later on.
Don't worry if you don't have a Samsung washing machine, but instead, you have a washing machine from a different brand.
Most brands use similar structure, design, and technology in their latest washing machines. I'm you'd find the filter in your washing machine. You can always go through the user manual to see where the washing machine filter is located, just in case.