Last Updated on: 13th June 2023, 07:02 pm
Have you ever wondered how to cover a washing machine outside? If you have been putting off covering your machine, then it's time to take action. It doesn't matter if it's summertime or winter, your washing machine would be exposed to rain, humidity, or sunlight.
It's essential to cover your washing machine because maybe you keep the washing machine in the backyard, or your laundry area is on the flat's balcony.
There are several ways to cover a washing machine. However, the best way to cover a washing machine outside is by putting a washing machine cover onto it.
Disclaimer:
As an Amazon Associate, I earn from qualifying purchases.
I do have other ideas to share with you, just in case. So if you have a washing machine in an open area, I highly recommend reading the next part.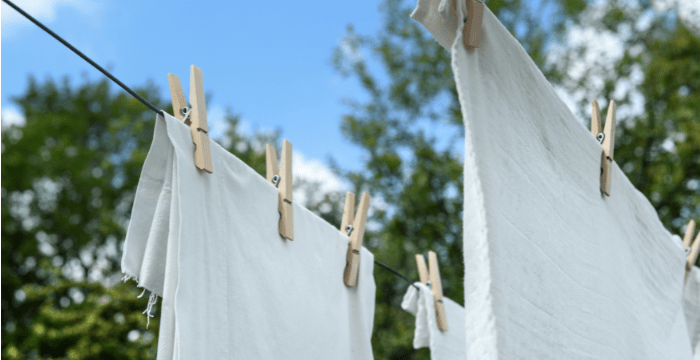 How to Cover a Washing Machine
Here are three ways to cover a washing machine outdoors:
Use a Washing Machine Cover
The best way to keep your washing machine safe and clean is by covering it with a washing machine cover. Most washing machine covers are made of thin and shiny waterproof fabric that keeps the washing machine dry during the rainy season. These washing machine covers are ready-made and easy to put on. You could find them in several colors.
A zipped cover for dust protection
It is dustproof and stain resistant
This cover significantly is easy to clean
Zipper closure makes it convenient to use
Thicken PEVA material is sturdy, durable, and waterproof
2. Install a Fiber Shade
Have you seen a fiber shade outside the window or in the parking area? Well, you could use the same fiber shade for covering your washing area or backyard. Not only would it keep the washing machine safe from rain, but it'd also keep it away from being exposed to direct sunlight. Even though installing a fiber shade won't stop dust from creating a mess. You might need a washing machine cover, anyway.
3. Put a Plastic Sheet
If you have no idea where to buy a ready-made washing machine cover, we'll try to add products to the article. However, you could cover your washing machine with any plastic sheet you got. Make sure that your washing machine isn't exposed to humidity, rain, and sunlight. Otherwise, it might get rusty.
Suitable for toilet, kitchen, bathroom, balcony lighting, patio, eaves, awning. Avoid staining, stripping, aging and rust on the washing machine.
Quilted fabric tip washing machine cover, sun protection. Romantic and elegant design, can be used for interior decoration or as a gift.
Pre-Window Design- Pre-cut window design allows you easy access to the control panel and lid. You can open your machine without removing the cover, which is very simple and convenient.
Size - L23 x W23 x H33 inches (L60 x W60 x H85 cm). Our cover fits most top or front loading washing machines / dryers.
Dustproof, waterproof, sunscreen, smokproof, encrypted silver coating, good thermal insulation, UV resistance.
How Do You Cover Your Washing Machine?
You must have spent a good amount of money on the washing machine so should take a few more steps to take care of it.
Well, I shared the three most common yet useful ways to cover your washing machine.
If you have better ideas, feel free to share them with us in the comments below.
Let us know what you do to cover your washing machine.