Last Updated on: 9th April 2023, 06:56 pm
Washer and dryer are two useful home appliances, but things get difficult when you have to move either one of these upstairs. Plus, it's the same story when you have to move a washer downstairs.
Most washing machine buyers hire movers or pay the delivery team to take their washer or dryer upstairs or downstairs. However, this isn't the only solution to moving a washer or dryer. A lot of buyers don't want to pay money, so they do it themselves.
You could move the washer or dryer upstairs yourself if you know how to do it. Sure, you need to call your best buddy to help out, but you won't have to spend extra money on moving the appliance.
I'll try to share the method with you. However, if you aren't sure about it, you better take some help from professionals. Don't risk your washer or yourself by doing something you're not comfortable with in the first place.
Without any further ado, let me share two simple ways of moving a washer or dryer upstairs.
Disclaimer:
As an Amazon Associate, I earn from qualifying purchases.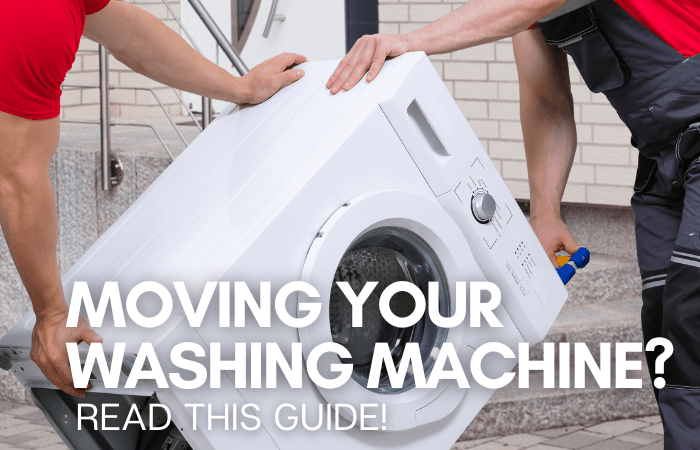 Using a Shoulder Dolly
You may not have heard about a shoulder dolly until now. I also found out about this washer moving equipment lately. It's a two-person shoulder belt that divides the appliance weight equally on both sides and helps both movers lift the washer easily.
Keep arms/hands-free
Safely lift and move
Reduce back pain
Versatile adjustments
One size fits all
Follow installation Guide
The best thing about a shoulder dolly is that it divides the pressure on your shoulder, back, and arms. I've watched several YouTube videos of people using this shoulder dolly, and it seems great.
I can't think about moving a heavy washer by actually lifting it. It gets even scarier when you have to take it upstairs. Thanks to the shoulder dolly, now you don't have to worry about it.
Using a Dolly and Sliders
Method number two is using a dolly and sliders. The dolly is a moving trolley that you often see in supermarkets. Usually, the supermarket staff moves boxes and items in the store using a dolly.
The sliders work as wheels, but they aren't proper wheels. Instead, they are a kind of rollers that help the appliance slide on a smooth surface. The benefit of using sliders is that you don't have to push your washer around from one place to another.
All you have to do is to slide your washer or dryer out of the laundry area and put it on the dolly to take it to the lift.
Should You Use Stairs or Elevators for Moving a Washing Machine?
Moving a washing machine is no joke. It's good to be prepared and well aware-of the moving process. If you're alone, perhaps use a dolly and elevator to move a washing machine. However, if the elevator isn't available, you should look out for a helping hand.
On the other hand, if you're a couple of guys or gals, you could use a shoulder dolly and take the stairs route, just in case. However, if the elevator is available and measurement tells you that you could take your washing machine through the elevator, then you're all set.
There is no definite answer to this question because the solution varies from person to person. We tried to help people in both types of situations.
Washer Dryer Stacking Rack
How to Lift a Washing Machine into a Truck
Here is the step-by-step process of lifting a washing machine into a truck:
i. Gather materials: Don't wait for the last moment to gather the essentials, such as moving straps, dolly, ranch, and other screwdrivers.
ii. Bring reinforcement: Ask your friend to come over to your place to help out. It'll require at least two people to lift the washing machine into a truck.
iii. Unplug and wrap it up: Empty the washing machine of any water, unplug it, and wrap it up with bubble wrap and tape. It'll keep the washer body safe in the truck.
iv. Utilize moving material: Use the moving straps, shoulder dolly, or sliders to move the washing machine around or take it toward the truck.
v. Place correctly: Don't place the washing machine on its side. Instead, keep it upright. You may have to tie up the washer with ropes or belts.
vi. Lift right away: Have one person on each end of the dolly lift the washing machine into the truck and put it gently into the vehicle.
vii. Secure the washing machine in the truck: Make sure you're using straps or rope to prevent movement during transit.
So these were some tips on putting the washing machine or dryer into the truck. Both these appliances are essential for washing clothes – no doubt about that.
5 CYCLE SELECTION
IMPRESSIVE FUNCTIONALITY
STAINLESS STEEL TUB
DESIGNED FOR MOBILITY
EASY TO OPERATE
Easy to Use
Space saving
Extremely Energy Saving
Child Lock Functionality
Delay Start & Reloading
Perfect for apartments and small houses
Good for drying baby's clothes and delicates
Multiple wash modes: Heavy, Soft, Normal, Rapid, and Soak
Transparent lid design
A compact design washing
However, you don't have to buy a separate washer and dryer nowadays. Look out for the washer and dryer combo models.