Last Updated on: 9th April 2023, 06:44 pm
Most washing machines didn't have a built-in dryer up until a few years ago, so you must have seen separate dryers in most households. However, the latest washing machines come with built-in dryers now. So you can say that almost every new washing machine has a dryer.
Are you planning on buying a washing machine or a dryer? That's why you probably want to know whether or not every washing machine has a dryer.
Gone are the days when you had to buy a washing machine and a separate dryer. But, of course, it also depends on your budget; everyone wants to choose the best washing machines for the apartment without breaking the bank.
Drying is an important part of your laundry work. Some people like to buy a separate dryer. Even though most of the latest washing machines do have built-in dryers, it doesn't mean every washing machine has a dryer.
You could find several latest washing machines without dryers. However, most washing machine buyers would prefer a washer with a built-in dryer, especially when you have an indoor laundry area.
Choosing a separate dryer or a washer and dryer combo also depends on the workload and it may vary from household to household.
Let's briefly look at the pros and cons of the washer-dryer combo and separate dryers.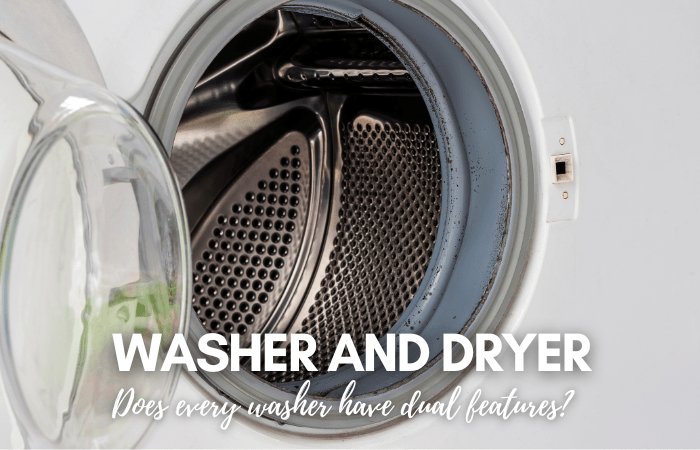 Washer Dryer Combo
Washer and dryer combos serve as a good solution to small household laundry. Washer-dryer combos come with almost all the features offered by separate washers and dryers.
Washer and dryer combos are more famous nowadays as they are more energy-efficient and have advanced technology features.
Pros
Takes less space ( 1 machine ) as compared to two separate machines
Both washing and drying can be done automatically without manual intervention
Washing and drying can be done independently in a washer-dryer combo
Have the latest technology features to give maximum positive results of drying
Cons
Only half of the clothes can be dried and then washed
Longer time is required for multiple loads of laundry
Are complex to use and expensive
Some of them use heat instead of water for drying
Considering their dimensions and size, some combos are difficult to fit in a small space
Separate Dryer
Separate dryers were most common in the past time as they are a famous source of drying a bulk of clothes in just a single load. The most important feature was their quick-drying, easy-to-use features, and affordability.
Pros
They are cheap and affordable
Can dry a large bulk of laundry in a single load
Occupy less space and are easy to use
Cons
Requires manual intervention
Uses more water and is less energy efficient
Lacks the features of advanced drying
Washer Dryer Combo vs. Separate Dryer: Which is Better?
Choosing between a washer-dryer combo or a separate dryer is completely a personal choice depending on your needs and other factors.
Demand
This factor indicates a load of your clothes whether you have a large bulk of clothes or you have a family with a small or less load of clothes. If your demand is less, you can simply go with a washer and dryer combo but in case of more clothes, a separate dryer works best.
Space
Space is the second important factor in this regard. Whether you have space in your house for a washing machine and a dryer or a combo determines the purchase of your laundry machines.
Technology
When it comes to using advanced features, a washer-dryer combo can be your favorite as compared to a separate dryer as it comes with advanced drying features that use a heated system instead of water for drying.
Time
Time is an important factor that depends on your specific requirements. If you want quick washing and drying then a separate dryer is the best option for you.
What's the takeaway?
As you have discussed that both washer-dryer combos and separate washer/dryer have their pros and cons, it comes down to what suits you the best.
Separate washing machines and dryers are ideal for households, apartments, and Airbnb where you have some room for all this.
Washer/dryer combos work best for people who want quick drying and they have limited room.
Both types of washing machines work well, and it essentially comes down to your situation, budget, and need – these things will help you determine which one is best for you.