Last Updated on: 8th April 2023, 12:27 am
If the house construction is underway, and you have the option to choose between putting your laundry room indoors or outdoors, then it must be an exciting yet overwhelming time.
The laundry room is often decided based on the type of construction, meaning if you're in a studio apartment or a flat, you might not have the luxury to make an outdoor laundry area.
However, if you're living in a villa, then you could always dedicate an open space for laundry and whatnot.
However, in apartments or small houses, people mostly have indoor laundry rooms.
Besides the laundry room, there are things worth paying attention to while building your house, for instance, where the kitchen goes, how big you want the living room to be, how to connect the porch to the house, etc.
Disclaimer:
As an Amazon Associate, I earn from qualifying purchases.
But we're going to focus on the indoor laundry room for now so that everyone anxious about putting an indoor laundry room finds it easier to get along with it.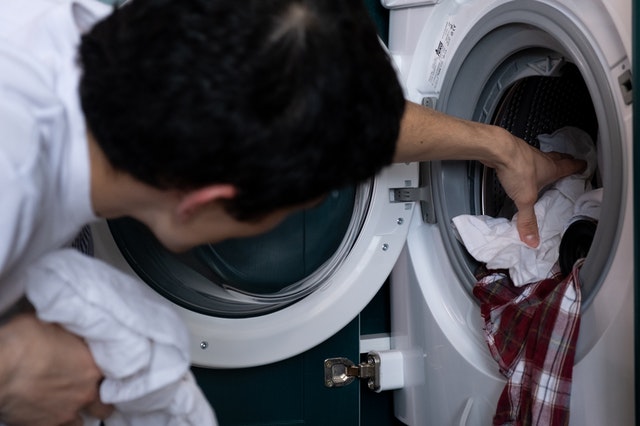 Pros of an Indoor Laundry Room
Here are a few benefits of putting your laundry room indoors:
Easy to Access any time of the day
One of the perks of an indoor laundry room is that you can step into your laundry room any time you want. Plus, you can multitask if you're a single mom, meaning you can set the washing machine timer and cook the meal or go for room dusting. You'd know that it would take a few seconds to get back into the indoor laundry area, so you could do other stuff along the way.
Washer Dryer Stacking Rack
No issue during rain or thunderstorms
One of the problems people face with outdoor laundry areas is that they have to protect their washing machines from rain and thunderstorms. Sure, they could build a shelter to avoid any problem with rain or thunderstorm, but it's always risky to keep the washing machines outdoors. On the other hand, you don't have to worry about rain and thunderstorm as your laundry area is indoors.
Keeps the washing machines safe and clean
When you have an indoor washing area, it's easier to keep the washing machine neat. When you have an outdoor washing area, you might want to cover your washing machine with a plastic cover or build a shelter to keep the laundry area safe. It's certainly better to put a laundry area indoors, especially when you reside near a coastal line or windy area where it rains a lot.
LARGE 40 G CLEANING TABLETS
MAXIMUM STRENGTH
FRONT LOADING OR TOP LOADER
UNSCENTED
NO COLOR DYES
ECO-FRIENDLY TABLET
SATISFACTION GUARANTEED
Cons of an Indoor Laundry Room
Here are a few disadvantages of an indoor laundry room:
Allocate a portion to the laundry
One of the difficulties you might come across with indoor laundry is that you need to allocate some space to it or specify a room for the laundry. In small houses or apartments, people don't have enough room to create an indoor laundry, it becomes a little mess. It surely is a downside of indoor laundry.
Removes pet accidents, grease, oil, ink, red wine, coffee, blood, rust, food, cosmetics, dirt, and grime
Water-based, non-flammable and odor free
VOC, solvent, and petroleum free
Safe to use around children and pets if used as directed
Made in the USA
1 Bottle
Limited spacing in the laundry area
It may look doable on the outside, but it's not that easy on the inside. What I mean is that most indoor laundry spaces have limited space. Some people don't even have room so they put their washing machine in the bathroom. You may have seen people who put their laundry in the basement because they don't have enough room for it.
Difficult to dry out the clothes
A huge problem washing machine consumes with indoor laundry areas run into is that they don't have a space to dry the clothes. Thanks to the modern-day washing machines that also dry out clothes after the wash. Otherwise, the indoor laundry would have been a headache for most people.
This compact dryer (23.6" x 21.5" x 27.5") is ideal for smaller spaces and apartments.
Pick from different drying modes to best suit your needs: Air Dry, Cool, Warm & Hot.
Our portable dryer comes with a 4" diameter vent hose & exhaust connector, lint & exhaust filters.
Drying times with this outstanding compact dryer vary from 30 minutes to 200 minutes.
This portable dryer is your top solution for drying sheets, towels, clothes, and other everyday items.
The weight of this clothes dryer is only 47 lbs, and the small size makes it portable.
The design of the stainless steel tub makes this clothes dryer more durable.
The noise of this clothes dryer is minimal.
Set the time length or different mode for drying: Cool (0-20mins): Low temp dry, Warm(30-120mins): dry and cool cloth, Anti-wrinkle, Hot (120-200min).
With 1500W power and 13 lbs large capacity, this clothes dryer can ensure your clothes dry quickly.
2.6 cubic foot capacity fits up to 9 lbs. of clothes per load
The Avanti compact dryer is perfect for apartments, condos, vacation homes, RVs, or any small laundry space.
Includes front control panel, auto dry / timed dry settings, air dry (fabric refresh), anti-wrinkle, front load window, and multiple installation options
This portable compact dryer uses a standard 120-volt outlet..
Specs of the dryer are 27.5" H x 23.75" W x 18.75" D, 2.6 cu. ft. capacity, 49lbs, 110 volts/60 Hz
Would You Put the Laundry Indoor or Outdoor?
You have read about what it takes to put laundry indoors. I shared the good and bad of the indoor laundry area.
Now it's up to you what you choose between both these options.
I'm curious to see what you would prefer, anyway.
So feel free to share your thoughts and ideas on putting a laundry area indoors.
Would you put your laundry area indoors or outdoors?