Last Updated on: 14th June 2023, 06:29 pm
Are you wondering whether or not you can wash blankets in the washing machine? Let me put it this way: blankets keep us warm while watching a movie or some Netflix series while munching our favorite snacks. And then, the soft drink gets spilled on the blanket. Oops!
Can you wash your blanket in a washing machine? Yes! You can wash most of your blankets in a washing machine, but some fragile ones require more care so they can be washed by hand. In a nutshell, you can wash most of the blankets in the washing machine. All you need is to read the wash instructions on the blanket cover or packaging.
Disclaimer:
As an Amazon Associate, I earn from qualifying purchases.
Clearly, blankets need to be washed regularly. You should wash your blanket at least once a month to get rid of the dirt piling up.
Whether you want to use a washing machine or not depends on the type of material the blanket is made of. We will give you all the information you need about either washing them by hand or by using a washing machine.
Always remember to check the tag before washing your blankets. Wool, mink, fleece, and cotton blankets can be easily washed by using a washing machine. You might also be washing pillows in the washing machine, and that's why you're curious about washing the blanket in the washing machine.
So let's get down to business.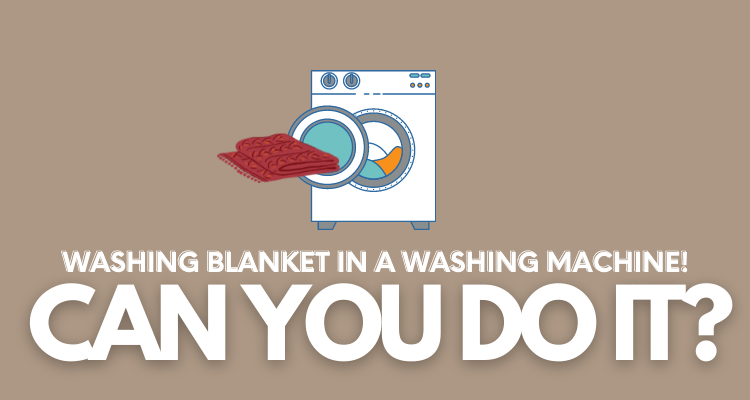 Materials you will need:
Washing machine.
Liquid detergent.
Stain remover.
5 CYCLE SELECTION
IMPRESSIVE FUNCTIONALITY
STAINLESS STEEL TUB
DESIGNED FOR MOBILITY
EASY TO OPERATE
Easy to Use
Space saving
Extremely Energy Saving
Child Lock Functionality
Delay Start & Reloading
Perfect for apartments and small houses
Good for drying baby's clothes and delicates
Multiple wash modes: Heavy, Soft, Normal, Rapid, and Soak
Transparent lid design
A compact design washing
Here are the steps of washing a blanket in the washing machine
Step 1: Make sure the blanket fits
You can have difficulties fitting your blanket into a washing machine, depending on its size. If your blanket is too large or made up of delicate material, wash it by hand instead. Before washing the blanket, take it outside and shake it well to remove any loose dirt or dust.
Step 2: Perform a color test
If you are washing your blanket for the first time, make sure to do a quick color test. Soak the colored part of your blanket in lukewarm water for a couple of minutes and then dab the soaked part on a piece of white cloth
To avoid stains, use a detergent to the area as soon as feasible. Apply warm water to the spot with an eyedropper; then, using a clean toothbrush, apply a tiny amount of mild detergent; sponge the area thoroughly with warm water; and dry with a clean towel.
While washing your blanket always remember to use lukewarm water. Because using hot water will cause the threads to shrink or cause color fading.
Pour liquid detergent into the washing machine before adding the blanket. By doing this the detergent will diffuse properly in the water giving extraordinary results. Now place your blanket into the washing machine and wash it on a lower setting.
After washing your blankets in the washing machine make sure to air dry them. Take your blanket out of the washing machine and press the blanket to remove excess water from it. Air drying will help your blanket to dry faster.
Straighten and suspend the blanket on a clothesline to start the drying process. Try to hang your blanket outside or you can simply use a fan. Before hanging the blanket smooth out all the wrinkles and folds. Otherwise, the blanket will dry unevenly. Make sure to properly stretch it out for drying because the larger the surface area, the faster the drying will be.
Activated Baking Soda To Help Eliminate Odors
Tough on Stains
Great Everyday Value
Leaves Laundry Smelling Fresh
Scent: Alpine Clean
Freshlock. 1 scoop. 2 weeks of freshness.
6 weeks of freshness from wash until wear.
Regular and HE Washer compatible.
Like any household detergent, keep away from children.
Helps to removes tough stains in the first wash
Great clean at a great price
Economical and effective
Original Downy Scent
How to wash your blanket by hand
Hand washing your blankets is the best way to extend your blanket's lifetime and keep its appearance as well. It is a very simple method and can be used for blankets that are very delicate to be put in the washing machine.
In a tub, add lukewarm water and mix any liquid detergent in it. Soak your blanket in soapy water for at least 1-2 hours. After soaking it, make sure to softly knead your blanket in the water and then rinse it until the water coming out of the blanket is clear. Squeeze your blanket to remove excess water from the blanket.
Pressing is the best way to remove excess water out of the blanket as it will not cause any wrinkles. Now spread your blanket on a clothesline to air dry. To quicken up the procedure, use a fan.
This compact dryer (23.6" x 21.5" x 27.5") is ideal for smaller spaces and apartments.
Pick from different drying modes to best suit your needs: Air Dry, Cool, Warm & Hot.
Our portable dryer comes with a 4" diameter vent hose & exhaust connector, lint & exhaust filters.
Drying times with this outstanding compact dryer vary from 30 minutes to 200 minutes.
This portable dryer is your top solution for drying sheets, towels, clothes, and other everyday items.
The weight of this clothes dryer is only 47 lbs, and the small size makes it portable.
The design of the stainless steel tub makes this clothes dryer more durable.
The noise of this clothes dryer is minimal.
Set the time length or different mode for drying: Cool (0-20mins): Low temp dry, Warm(30-120mins): dry and cool cloth, Anti-wrinkle, Hot (120-200min).
With 1500W power and 13 lbs large capacity, this clothes dryer can ensure your clothes dry quickly.
2.6 cubic foot capacity fits up to 9 lbs. of clothes per load
The Avanti compact dryer is perfect for apartments, condos, vacation homes, RVs, or any small laundry space.
Includes front control panel, auto dry / timed dry settings, air dry (fabric refresh), anti-wrinkle, front load window, and multiple installation options
This portable compact dryer uses a standard 120-volt outlet..
Specs of the dryer are 27.5" H x 23.75" W x 18.75" D, 2.6 cu. ft. capacity, 49lbs, 110 volts/60 Hz
Can we dry blankets in machine dryers?
It is recommended not to dry your blankets in the dryer because they will come out wrinkled from this drying process. Drying the blankets in the dryer can cause the blankets to shrink. Some blankets can also lose their softness as their fur will get damaged. So, the best method to dry them is simply airing them.
There is more to cleaning your blankets than throwing them in the wash if you want them to last long. Hand washing and spot cleaning your blanket might help you avoid ruining it and extend its life. Remember that most blankets only require a light detergent, and hanging the material will aid them in drying.