Last Updated on: 21st April 2023, 08:10 pm
Are you wondering what a top-loading washing machine means? A top-loading washing machine means a washer with a lid on the top instead of the front.
So when you wash your clothes in a top-loading washing machine, you open the lid upward to put the clothes in the machine and then put the lid down to start the machine.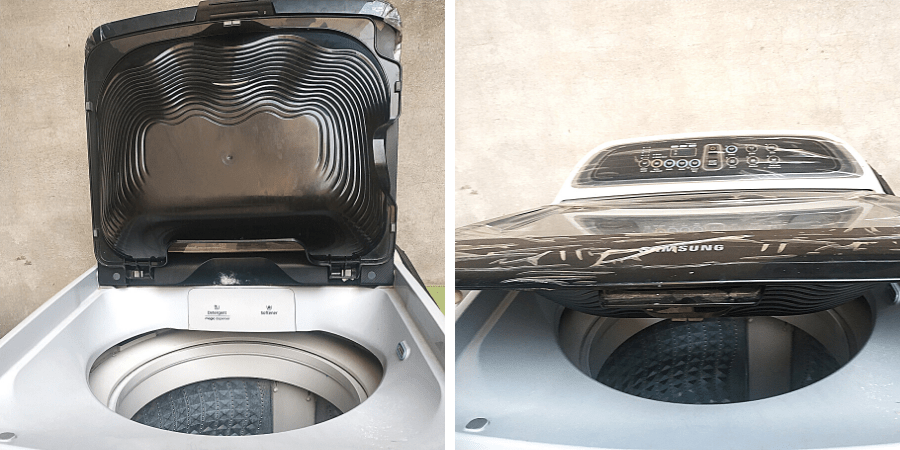 There you go. Now you know what a top-loading machine is. The thing I like about these latest top-loading washing machines is that they don't take up so much space in your laundry area.
For example, please don't quote me on this, but we have a Samsung washing machine that hardly takes 3 square feet, which is fantastic. You could see the pictures of that machine above.
Disclaimer:
As an Amazon Associate, I earn from qualifying purchases.
So I'm glad to be of help. Furthermore, if you're interested in knowing about the types of washing machines, you can keep reading this piece.
5 CYCLE SELECTION
IMPRESSIVE FUNCTIONALITY
STAINLESS STEEL TUB
DESIGNED FOR MOBILITY
EASY TO OPERATE
Easy to Use
Space saving
Extremely Energy Saving
Child Lock Functionality
Delay Start & Reloading
Perfect for apartments and small houses
Good for drying baby's clothes and delicates
Multiple wash modes: Heavy, Soft, Normal, Rapid, and Soak
Transparent lid design
A compact design washing
Types of Washing Machines
Since you're interested in washing machines, let us shed some light on different types of washing machines. There are several types and designs of washing machines.
However, most consumers can't tell the difference between various kinds when they see them. If you are serious about buying the best washing machine for yourself, then you must have a look at these three main types:
1. Top-load Agitator
The top-load agitator washing machines have been around for a while, but they are still popular due to their highly advanced cleaning action. They have a long agitator in the middle of the washing machine where you load clothes. The washing capsule squishes clothes together to clean them.
However, it requires more water and energy to wash clothes. It is not the most sustainable method, but it works for most people. Its cleaning action is hard on clothes; hence, they can lose their shine faster.
2. Top-load Impeller
The top load impeller is a relatively new development with multiple options for faster and more effective cleaning. It is similar to a front loader in most ways, especially the rapid cleaning action.
It uses the bottom impeller for back-and-forth swooshing of clothes rather than using an agitator. You can load large and dirtier items using the deep fill option.
However, the deep fill options are not available in most models. It also has a high-efficiency cycle mode for deep cleaning loads using less water. A top-load impeller is a great option, but it is not great for people who cannot stand the noise.
3. Front-load Washer
The front-load washing machine is designed to provide energy efficiency and rapid cleaning action. The clothes rub against each other for cleaning rather than the agitator, which makes the process gentler. It is ideal for cleaning large clothing items as it spins faster and gives the head up before the drying process begins.
You can wash sleeping bags, comforters, and woolen sweaters in a front-load machine. Plus, a front-loading washing machine uses 1/3 less water than other washing machine types. However, it takes two times longer to finish washing clothes than the top load.
This compact dryer (23.6" x 21.5" x 27.5") is ideal for smaller spaces and apartments.
Pick from different drying modes to best suit your needs: Air Dry, Cool, Warm & Hot.
Our portable dryer comes with a 4" diameter vent hose & exhaust connector, lint & exhaust filters.
Drying times with this outstanding compact dryer vary from 30 minutes to 200 minutes.
This portable dryer is your top solution for drying sheets, towels, clothes, and other everyday items.
The weight of this clothes dryer is only 47 lbs, and the small size makes it portable.
The design of the stainless steel tub makes this clothes dryer more durable.
The noise of this clothes dryer is minimal.
Set the time length or different mode for drying: Cool (0-20mins): Low temp dry, Warm(30-120mins): dry and cool cloth, Anti-wrinkle, Hot (120-200min).
With 1500W power and 13 lbs large capacity, this clothes dryer can ensure your clothes dry quickly.
2.6 cubic foot capacity fits up to 9 lbs. of clothes per load
The Avanti compact dryer is perfect for apartments, condos, vacation homes, RVs, or any small laundry space.
Includes front control panel, auto dry / timed dry settings, air dry (fabric refresh), anti-wrinkle, front load window, and multiple installation options
This portable compact dryer uses a standard 120-volt outlet..
Specs of the dryer are 27.5" H x 23.75" W x 18.75" D, 2.6 cu. ft. capacity, 49lbs, 110 volts/60 Hz
Top-loading Washing Machine vs. Front-loading Washing Machine: What are the Differences?
Here are some key differences between top-loading and front-loading washing machines:
Design and body: Top-loading washing machines have a lid on the top of the machine while front-loading washing machines have a door on the front of the machine. That's pretty much the main difference.
Washer Loading Capacity: Top-loading washing machines tend to have a larger loading capacity than front-loading washing machines. Top-loading washers have a rather large drum as compared to front-loading washers.
Energy Consumption and Efficiency: Front-loading washing machines may turn out to be more energy-efficient than top-loading washing machines due to their horizontal drum orientation, which uses less water and energy to wash clothes.
Water Usage Level: Front-loading washing machines use less water than top-loading washing machines, as they use gravity to move clothes around in the drum, which requires less water than the agitator used in top-loading machines.
Cleaning Performance: Front-loading washing machines tend to be better at cleaning clothes than top-loading washing machines, as the tumbling motion of the horizontal drum is gentler on clothes and provides a more thorough cleaning.
Space Requirements: Front-loading washing machines require more floor space than top-loading washing machines, as they need to be placed on a flat surface with clearance for the door to swing open.
Ease of Use: Top-loading washing machines are generally easier to use, as they require less bending over and lifting to load and unload clothes.
Pricing: Top-loading washing machines tend to be less expensive than front-loading washing machines, though this can vary depending on the features and brand.