Last Updated on: 28th June 2023, 12:24 am
How long have you been searching about where the detergent goes in a top-loading washing machine?
Well, we have been using a Samsung top-loading machine, so I'll tell you where the detergent would go in a Samsung washing machine.
Most top-loading washing machines, especially the latest models have a detergent segment built near the spin tub. You don't have to add water and detergent directly to the spin tub.
Disclaimer:
As an Amazon Associate, I earn from qualifying purchases.
Instead, the washing machine does it for you. All you need is to add the detergent to the detergent drawer and connect the water supply hose.
STEAM WASH STAIN REMOVAL
SUPER SPEED WASHING
VIBRATION REDUCTION TECHNOLOGY+
SMART CARE
SELF CLEAN
DIAMOND DRUM INTERIOR
ENERGY STAR CERTIFIED
ONE MACHINE, TWO WASHERS
LAUNDRY JUST GOT SMARTER
SUPER SPEED WASHING
CONTROL with Wi-Fi
FIT MORE FOR FEWER LOADS
GENTLY REMOVE STAINS
Product Dimensions: 27"W x 46 15/16"H x 32 1/2"D
ONE MACHINE, TWO DRYERS
GENTLE CARE FOR DELICATES
LAUNDRY JUST GOT SMARTER
SUPER SPEED DRYING
CONTROL with Wi-Fi
You seem curious about top-loading washing machines. Perhaps, you're buying a washing machine or have already bought one. Either way, it's good to dig deeper into stuff and learn new things.
Let us shed some more light on this topic so that you know where the detergent goes in a top-loading washing machine.
How to Add Detergent to a Top-loading Washing Machine
You don't need a ton of detergent to wash your clothes. Most of the latest washing machines use less detergent and provide efficient cleaning.
Follow this brief guide on adding detergent to a top-loading washing machine: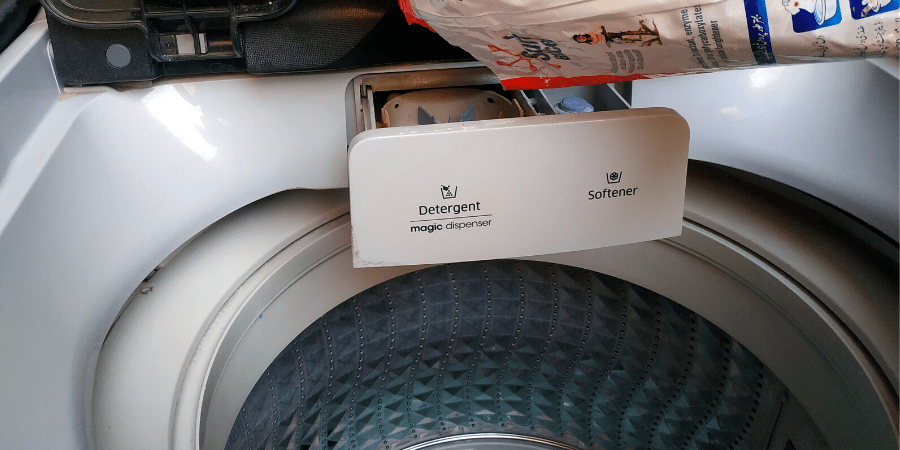 You don't need to be a laundry expert to add detergent to a top-loading washing machine. You'd see the detergent drawer once you open the outer cover of the spin tub. In most washing machine models, it's right above the inner surface of the spin tub.
Activated Baking Soda To Help Eliminate Odors
Tough on Stains
Great Everyday Value
Leaves Laundry Smelling Fresh
Scent: Alpine Clean
Freshlock. 1 scoop. 2 weeks of freshness.
6 weeks of freshness from wash until wear.
Regular and HE Washer compatible.
Like any household detergent, keep away from children.
Helps to removes tough stains in the first wash
Great clean at a great price
Economical and effective
Original Downy Scent
Open the detergent drawer and add two to three scoops or spoons of detergent powder into it and close the drawer.
Remember that you can't put the detergent powder directly into the spin tub along with clothes. Today's washing machines are quite different than the ones our grandparents used to use almost 20 to 30 years ago.
Lavender, lilac, and jasmine fragrances are combined.
Subtle fruity tones let the strong floral scents shine.
Bottle made from 25% or more recycled plastic.
Part of the Soothing Sensations collection
Made with 100% orange oil
Can wash away stains and odor
Food-grade orange oil is safe for the skin
The laundry detergent is chemical-free.
Dermatologically tested and USDA certified.
Whiter and brighter fabrics after one wash
Part of the Tide Plus Collection
Specially designed for HE washing machines
Item Form: Liquid
Scent: OXI
Unit Count: 150 Fl Oz
If you still have an old washing machine at home, take a look at that machine. If you don't know how it worked, then let us explain it to you. You put clothes, water, and detergent right into the spin tub and turn it on. That's it.