Last Updated on: 27th May 2023, 08:00 pm
Are you finding the best portable washers for small apartments? It's one of those household things that you always need whether you're single or you have a family.
There could any reason why you're looking for a washer for a small apartment. Maybe you're sick of hauling your laundry four blocks every two weeks.
Perhaps you went to the laundry room at your daughter's dorm building and are still smelling the washers.
Maybe you want to update your RV before a long journey. Allow us to shed some light on the most incredible portable washing machines for your needs whether you want an indoor laundry room or setting up an outdoor laundry area at home.
A portable washing machine can be wheeled over to a kitchen or bathroom sink (or another water source) to do a load of laundry. So no more worrying about covering the washing machine outside.
In addition to being more eco-friendly and using less detergent, they can fit into small bathrooms or laundry areas in small apartments.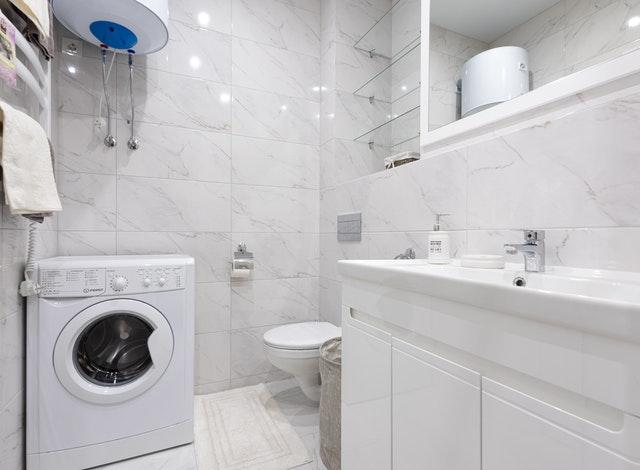 Here are the Best Washers for Small Apartments
Let's take a look at them:
COMFEE' Portable Washing Machine
Heavy, Soft, Normal, Rapid, and Soak are all included in the full-automatic washing machine's five programs. You can start the machine in the manner of your choice by selecting from the five programs and three water levels.
The size of the load, wash duration, rinse time, and spin time are just a few of the customizable options available to you when creating your custom washing routine.
With a folding width of 18.1 inches, a depth of 17.7 inches, and a height of 31.5 inches, this top-load compact washing machine can be easily transported and stored. Storage options range from the bathroom to the kitchen to the RV and dorms.
It's much easier to move because it comes with wheels and handles. It's a great option for small homes with limited space and an emphasis on the fundamentals.
The drain pump and water intake make it easy to eliminate water from the unit in addition to the steel inner tub and lint filter. Additionally, this portable clothes-washing machine has an LED display that shows how long it will take to complete the process.
A DOE (Department of Energy) certificate is included with this tiny washing machine, which clearly shows how much energy it would use under average national conditions.
When it comes to washing machines, unbalance can be a very serious issue. Washing machines may "dance" on the floor, or worse, they may be forced to detach themselves from the water supply, resulting in an overflow of water.
Auto Unbalance Detection (AUD) on the other hand can automatically remedy an imbalance issue by allowing extra water to enter the system.
Even more importantly, if the problem cannot be rectified the app will alert the user so that they may enjoy their time. Please refer to the Technical Specification section below for installation and troubleshooting instructions.
Specifications
Brand: COMFEE
Type: Top Load
Color: Magnetic Gray
Capacity: 0.9 Cubic Feet
Cycles: 5
Pros and Cons
| | |
| --- | --- |
| Pros | Cons |
| It has a built-in transparent cover that allows you to observe and monitor the water level. | The tub may be too small. |
| Contains five applications that can be customized to meet the needs of the user. | |
| Wheels and handles make it easy to get around. | |
BLACK+DECKER BPWM16W Portable Washer
For camping, RVs, flats, boats, and dorms our portable washing machine is small but strong. In addition to the included drain hose and sink adaptor, it may be simply stowed and transported in compact places. No Steam Function
Large Capacity and Convenient Design In addition to a large 1.6 cubic foot tub that can wash up to 11 pounds of laundry in 15-59 minutes, this top-loading portable washer machine (20.3 x 36.6 x 20.7 in. It is recommended that you choose a voltage of 120 V for your autocycle programs and water settings.
Normal, Heavy, Delicate, Quick, Bulky, and Spin Only cycles are available to meet all of your laundry demands. Soak, Wash, Rinse, and Spin cycles may be controlled with a single button press, and water levels can be adjusted to suit the size of your load.
This tiny washing machine can only be used with cold water, which saves energy. To keep it clean, all you have to do is clean the built-in lint filter around once a month. Just high-efficiency detergents can be used with it.
This unit is easy to transport from one location to another because it has two side handles and two rollers. A quick-connect adapter, a water supply hose, and a drain hose are included with each device for temporary or permanent installation.
Specifications
Brand: BLACK+DECKER
Type: Top Load
Color: White
Capacity: 1.6 Cubic Feet
Pros and Cons
| | |
| --- | --- |
| Pros | Cons |
| Large capacity | No steam function |
| Convenient design | Small in size |
| Two side handles and two rollers | |
BLACK & DECKER BPWM09W Portable Washer
PORTABLE SMALL WASHING MACHINE – For camping, RVs, boats, or dorms, our compact but powerful clothes washer is ideal. The included drain hose and sink adaptor make it easy to move and store in tiny places.
Large Capacity and Convenient Design With a.9 cubic foot tub that can hold up to 6,6 pounds of laundry, this top-loading portable washer machine has an LED digital display panel and a glass top window that make it easy to use.
In addition to the five cycling programs and three water settings, you will also find them here. Soak and rinse cycles are available for all of your washing needs. Push a button to initiate Wash, Rinse, and Spin cycles. Adjusting the water level can also be done dependent on the weight of the load.
This tiny washing machine can only be used with cold water, which saves energy. To keep it clean, all you have to do is clean the built-in lint filter around once a month. It is only compatible with high-efficiency detergents. Glass for the door
Automatic unbalance detection is included in this washer in order to prevent irritating vibrations if the laundry inside the stainless steel tub is not spread uniformly.
Specifications
Brand: BLACK+DECKER
Type: Top Load
Capacity: 0.9 Cubic Feet
Cycles: 5
Pros and Cons
| | |
| --- | --- |
| Pros | Cons |
| Power-efficient | Bit expensive |
| LED display | |
| Option for detecting imbalances | |
Panda PAN6320W Portable Machine
Because of this space-saving design, laundry can be completed fast and efficiently. If you're searching for a second washer for your house, this is a fantastic option to consider.
The addition of built-in rollers/casters makes it easier to move about in the improved version 2.
Up to 10 pounds of material can be stored in Lager size 1, which has a capacity of 34cu ft and can hold up to 10 pounds of fabric. In any location where a regular three-prong 110 Volt outlet can be plugged in
Controllers for electronic equipment with LED indicators are available. There are a total of ten distinct wash cycles as well as five different water pressure settings to choose from. Due to their resistance to corrosion and chipping, stainless steel drums are the most suitable container for long-term storage.
You can connect the washer directly to your faucet using the quick connect adapter kit (US Standard size faucet adapter) and hose that are included with the washer.
Specifications
Brand: Panda
Type: Top Load
Color: Gray
Capacity: 1.34 Cubic Feet
Cycles: 10
Pros and Cons
| | |
| --- | --- |
| Pros | Cons |
| Stylish and compact design | Spindle power is weak |
| Lighting-emitting diode | |
Farberware Professional FCW10BSCWHA 1.0
This top-loading portable washer cleans up to 7 lbs. of clothes in your house, even if you don't have a designated washer room.
USE: The 6 wash routines are easily viewed on the digital controls with LED display (normal, heavy, gentle, speedy, soak, spin)
GORGEOUS: The soft closing lid includes transparent tempered glass so you can see the washing process clearly.
STRONG & SAVING: The 6 water levels and stainless steel inside the tub save water and electricity.
POWERFUL DRYING SYSTEM: The powerful 800 RPM maximum spin speed extracts water efficiently for faster drying.
A CHILD SAFETY LOCKS function adds extra security.
To avoid water damage, the drain and water inlet hoses must be correctly joined and tightened.
OVERFLOW TUBE: If the tub's max fill line is exceeded, water will overflow. That's when you need to drain the overflow tube. Please do not overfill the tub.
Specifications
Brand: Farberware
Color: Silver
Capacity: 1 Cubic Foot
Cycles: 6
Speed: 800 RPM
Pros and Cons
| | |
| --- | --- |
| Pros | Cons |
| Cleans up to 7 lbs. of clothes | Manual water draining |
| LED display | |
| Save electricity | |